"Make plants
grow simply
& successfully!"
We have created Plantlife Technologies to dedicate science and technology to horticulture lighting,
and make growers' life easier.
Our mission is to develop lighting solutions for growers that are efficient and super simple to achieve the best growing results. In doing so, we integrate science with technology to cater plants and growers with the utmost flexibility. Our revolutionary homogeneous light distribution combined with our innovative Grow Controller provides plants with the right light at all times and makes plant cultivation efficient and easy.
We believe in permanently listening, learning, inventing to always deliver the best value to our customers.
ModuLED –
The new "state of
the art" luminaire
for growing
ModuLED is the first lighting system adapted to grow tents & designed for both perfect results and ease of use.
The ModuLED lighting system is the plant-friendly result of …
intensive discussions of the Plantlife Technologies team with users and experts,
a thorough review of the latest scientific knowledge on plants & light,
the forward-looking integration of future-based LED technology,
ModuLED  also offers you the easiest way to achieve great results, while being good to your plants and to yourself.
The right quantity of photons–  not too much, not too little
We designed each ModuLED system so that, for the first time, each individual plant growing in a closed indoor area receives the right quantity of photons. Therefore,
you benefit from maximum yield and income from 100% of your cultivated area,
you prevent your plants from burning or remaining underdeveloped,
you benefit from a revolutionary way to grow plants very harmoniously,
the additional work of plant rotation during cultivation is no longer necessary and you can concentrate on truly important things,
A light spectrum
designed for plants
No light – no flowering
The right light is important for the plant, because
It provides energy that the plant converts into organic matter through photosynthesis.
It is a signal that triggers important physiological processes such as germination and flowering.
It promotes the development of various active substances.
Each pigment (chlorophyll, carotene, phytochrome…) uses a different range of the light spectrum (in the nanometer range).
The right photon absorbing spectrum – that matters
By applying the latest scientific findings, we were able to define an almost photon-absorbing curve for short-day plants – this served us as the specification for the ModuLED spectrum.
"useful PPFD"
Only energy (photons) that lies within the ideal curve can be absorbed/used by the plant.
"wasted PPFD"
Intensities that lie above the curve are not used by the plant. From the plants' point of view, they represent a pure waste of energy.
Key Photosensitive pigments' light absorption curve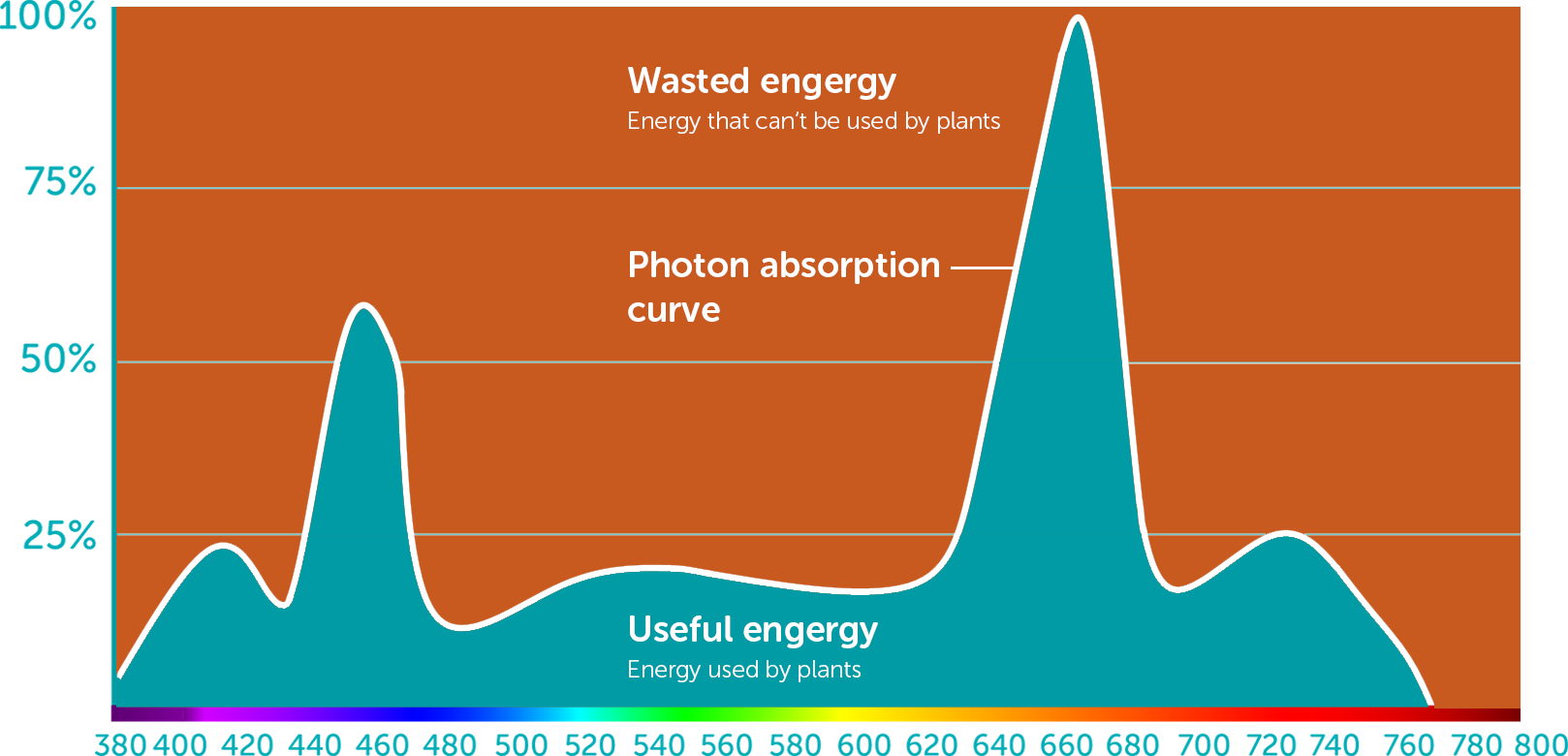 Photon absorption curve – Useful & wasted energy
A horticulture lighting start-up founded on vision & expertise
Plantlife Technologies (PLT) is the horticulture start-up of LEDON, a pioneer in LED lighting.
The vision of PLT's leadership team, Andrea and Yves, is not simply to bring light to plants but  to bring them life. Our way to master product innovation? A complete understanding of plant physiology and the use of the latest scientific discoveries to design lighting solutions tailored to  defined growing environments. Our team's sole focus and mission is to create disruptive solutions to improve indoor farming efficiency and make growers' work much simpler.
We listen
Because we create solutions to serve you, our journey starts by listening to you, to your needs. Together we discover the problems you face, and your expectations.
We learn
Plant lighting science is recent, new discoveries are made almost every day, learning with scientists allows us to define the best solutions dedicated to your grow.
We invent
We have been a pioneer of LED lighting  for a long time. Therefore, we know that technology is not an end  in itself but is there to  achieve what is required to serve growers and plants. This is not the easy way,  but it is the only one that works. And it is our way to provide you with the best.
Plantlife
Technologies…
The plant life dedicated start-up
of Ledon, a pioneer in LED lighting.
White paper download
A Short text, why the user should download this file:
Pos que nulpa ilis a saepudis quasimposam con plaborepedis
id eum et postota quatis sitatius dis dolenimus ea dit arum aut
im volumen dissintis sim faces experup tatiantem.